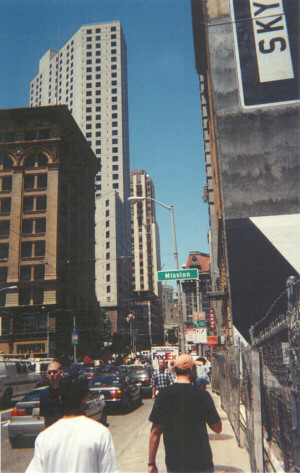 san francisco
Summer 2001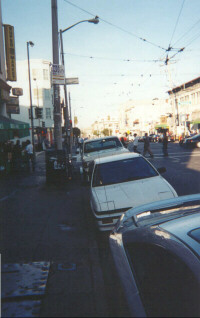 I had the plane tickets. I had the time. All I had to do was make the decision to go. In Summer 2001. I did just that. I spent ten days in San Francisco in mid June from the 15th to the 25th and had an absolutely amazing time. On this page you'll find a few of the images I captured on my Kodak disposable camera accompanied by a brief description of the events that transpired on my vacation. Let's begin.
On Friday the 15th I arrived at Oakland International Airport off of a cramped Southwest flight. I had had layovers in Phoenix and Ontario (California that is), and although my body told me it was 5:00 P.M. it was in fact 2:00 ... the day was still young. I took the shuttle to the BART and took it to the 16th Street Mission station. Upon disembarking I made the trek down 16th street (pictured at right) to my brother's place and hung out there for a while until he got back from practicing with his band mates for an upcoming concert (more on that later).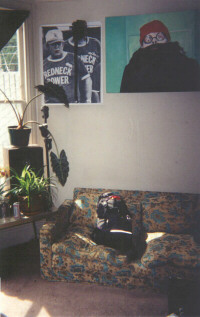 The next day (Saturday) I did a good amount of walking and ended up at North Beach. There was a festival going on (conveniently called the "North Beach Festival" if I recall correctly) and I stopped for a little while to have a beer and listen to some music in the warm summer sun. The weather was absolutely amazing, a fact that would remain true for the majority of my stay in the city by the bay. Afterward, I journeyed back to the Fisherman's Wharf area, where I stayed briefly and then made my way back to my brother's place via the MUNI. That evening my brother was spinning in-between acts at a concert taking place at El Rio. I stopped by to see him for a little while, but the time difference was taking its toll on me. After a couple hours I headed back to crash at my brother's place to crash on the couch which was my bed for the week (for the curious, glance left). Sleep would be a good thing ... there would be much more music in my future as the same second day of the show that was at El Rio on Saturday would continue the next day at Adobe books. This time my brother would be performing with his band Vetiver.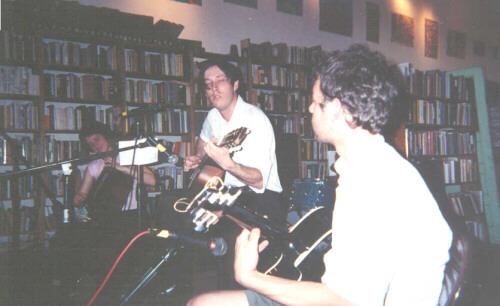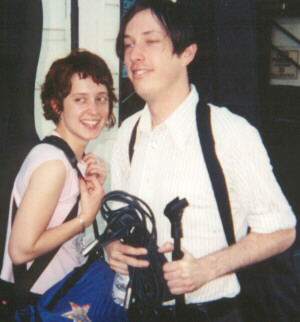 So you're probably wondering what Vetiver looks like ... well look above this line of text and you shall see. On the left is Alissa, in the middle is my brother Andy, and on the right is Jonathan. It was a fun show with many good acts. As always, my brother made incredible music.
Here is a close-up of Andy and Alissa taken as they were walking back to Andy's place from Adobe books. That night I made sure to get a good night's rest since the following morning (at noon actually ... but I had to get up earlier to get there on-time) I was to meet up with my friend Allison in Berkeley. As I was to experience the entire week, I slept soundly (walking everywhere is great exercise). The following morning I headed onto the BART and took it to the Downtown Berkeley station. Of course I had to forget something ... in this case it was my camera. So you'll have to take my word as to what happened on Monday.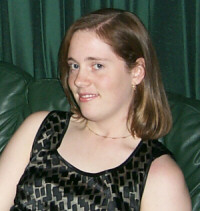 I had an absolutely incredible day with Allison on Monday (I have an old picture of her from last year on the left). We met up in Berkeley and walked around for a little while, stopping by a couple bookstores (Cody's and Moe's) and grabbed some lunch at a burrito joint on Telegraph. After lunch we decided to take the long walk across the Golden Gate Bridge and the parks between our BART stop and the bridge itself. I had no idea that the walk would be as long as it was, but I am glad that we made it. It was a lot of fun. We walked along Crissy Field taking in the beautiful scenery and pristine blue sky. Next we climbed up the hills to the bridge and started our voyage across. It was a hike and a half, but worth it. It is incredibly windy up there, but the view is absolutely breathtaking. From the span of the bridge you can see most of San Francisco and the bay area as well as the boundless Pacific. Once we got across, we had to walk back. When we did we took the MUNI bus as close as we could go to El Rio (where my brother was spinning) and walked there just in time to meet up with my brother as we walked in. Allison had to go back to where she was staying at 9:00, so I walked her back to the BART and then stayed for the rest of the night at El Rio enjoying good music and cheap alcohol (always a good combination).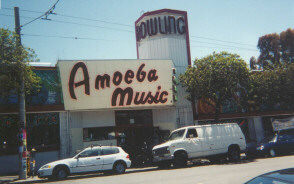 On Tuesday I began fulfilling a promise I had made to myself the last time I was in San Francisco. I promised myself that I would go to Amoeba Music, quite possibly the best record store on the planet, and spend some serious time looking through their absolutely amazing collection of used and discount records. The selection was huge (the store occupies an old bowling alley!) and in the end, I would spend three days there (a couple hours each day ... anything more and I would go crazy). By the end of the trip I picked up 24 CDs, and only payed about $65 or so for them.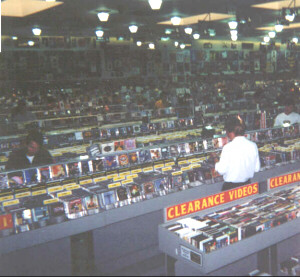 Talk about an incredible deal. So much great music can be had at that place. I highly recommend that you stop by there if you are in the area. If you are like me, you will be able to get lost in the stacks of compact discs and records that are housed therein. The best part is that many of the CDs available there are less than ten dollars, and hundreds are less than five. I found so many great CDs there ... and next time I am in San Francisco, Amoeba will definitely be on my list of sights to revisit. I also made the hike out to Ocean Beach which is just past the end of the Golden Gate Park (take the N Train to its terminus). The view was incredible. If you want to see what Ocean Beach looks like, look no further ... it is below.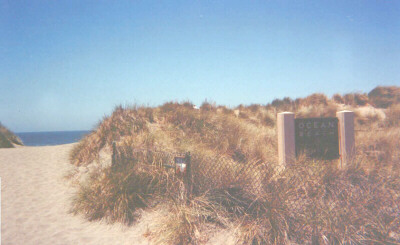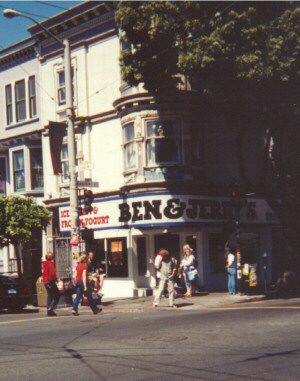 Also Tuesday afternoon I revisited a brew pub I had gone to in January when I was visiting, the Magnolia. Lunch there was great, and the beers were wonderful. If you're on the Haight, it is a good place to stop for a beer and a sandwich.
Speaking of the Haight ... if you're wondering what the intersection of Haight-Ashbury looks like, I have a picture at right. I find it kind of amusing that the focal point of the psychedelic movement now has ... a Ben and Jerry's. I guess everything gets commercialized these days.
I came back to Amoeba on Wednesday, this time with my brother and his roommate Nathan (sorry no picture). Afterwards we hitched a ride back on the MUNI 33 line and made the trek over to Valencia Pizza and pasta. The food there was delicious and reasonably priced (I had a lobster ravioli for only $7!). That night I got some Chinese food at Yum Yum in the Mission.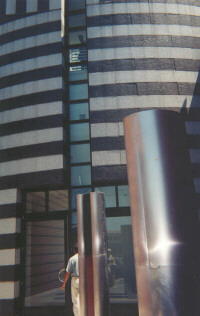 On Thursday I visited the San Francisco Museum of Modern Art (SFMOMA) (on the left) and saw the "Art in Digital Times" exhibit. It was an interesting exhibition, and the rest of the museum houses a great deal of modern art. After seeing the exhibit I walked down to the Fisherman's Wharf and grabbed myself some lunch. I went down with the intent of getting a chance to see Alcatraz. Unfortunately they were already sold out until Sunday ... so I did not end up seeing it. Maybe next time. After all that walking I headed back to Andy's place and took a nap.
On Friday, I went back to Amoeba for the third and final time and finished my search throughout its cavernous lair of music. I also took the opportunity to do some reading in Golden Gate Park for some of the classes I was taking for summer courses. The remainder of the day was fairly laid back and relaxed ... I worked on some homework and did the remainder of my reading. I went to bed early because the following day I was to meet up with my friend Danielle who was driving down from Santa Rosa.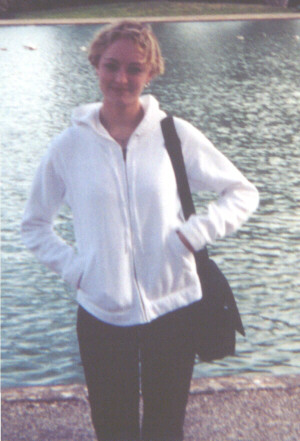 On Saturday, after some delay, Danielle and I met up outside my brother's place in the Mission and drove off to get coffee at a coffee shop in North Beach. After catching up we decided to head over to Golden Gate Park and take a walk. You can see Danielle at the right, she is standing in front of one of the many ponds at the park. As you can see from her attire, the weather was a little cooler on Saturday. Both of us were toting jackets, but it was just the temperature where it is too hot to have one, and too cold not to have one. After finding an absolutely beautiful sylvan pond we headed to the downtown area where we grabbed dinner at a diner. The food was standard diner fare with generous portions. Afterward we visited the Metreon, and then parted ways.
That night I fell soundly asleep, even though there was a fair amount of commotion back at my brother's place. The following day would be my last in the San Francisco bay area, and it would be a fairly laid back one.
By sheer coincidence, the last Sunday of my visit was the day of the Pride parade. I have some photos of the event, but they don't pass the PG rating test ... so they will not be shown here. Needless to say, it was a wild display. Evidently there were one million people lining Market Street that morning. After the parade I made the trek down to my brother's book store (see below) and picked up some cookbooks for the upcoming school year.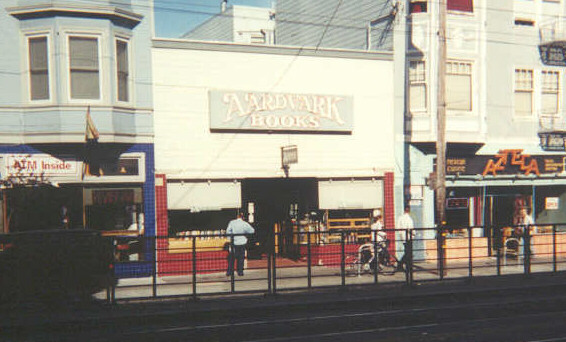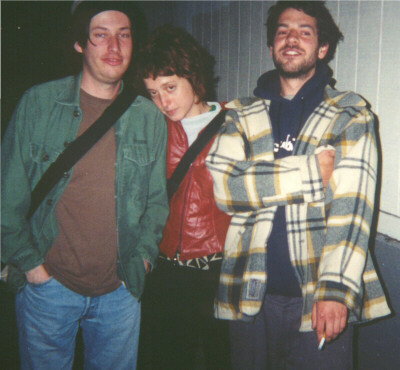 That evening we went to a restaurant that specialized in vegetarian foods that are prepared to simulate meat based foods. The food was very good and that evening we went to bar where my brother was spinning. We were accompanied by Allissa and Jonathan. Afterwards we grabbed some frozen pizzas at the local food store and had a late night snack.
The next morning I made my way back to Oakland International Airport and made the trek back to Baltimore-Washington International. At 11:00 I was back on the other side of the country filled with memories and stories to tell.
All Photographs and Writing
� 2001 Ed Cabic